What is LR / 2LR / 3LR?
LR is the Last Race which the horse ran. 2LR is the second to last race, and the 3LR is the 3rd last race the horse ran in. We have chosen to show the last three races as this represents the most recent form. Older scores are included in our secret sauce which make up the HRS and FRN. To make up the LR score we look at over 50 Form Factors, these include data on Going, Day, Favourite Status, Weight, Race Type, Race quality, headgear, odds, other sexes in the race, jockey, trainer, course, distance, places, distance beaten, track direction, prize money plus loads more.
The score which they were given for that race takes into account their last race, 2nd last race and 3rd last race, when compared to the the current race. The higher the number the better the rating. Members in our Facebook group have been using this as an initial sort, by looking at the three columns and comparing them against each other, looking for an improving trend in the stats.
In the example below, you would be looking for horses that have a lower 3LR, and improved 2LR and an even better LR to make them qualify. So the top one below Estepona Sun wouldn't qualify, as it's 3LR is 80, 2LR is worse at 66 and then the LR is 85 - this doesn't show an improving horse (or maybe it just shows that they had an off race 2LR).
Looking to Laralei, this horse does qualify, 3LR is 57, 2LR is 60 and LR is 66 - showing continued improvement. Looking at the forecast odds of 16/1, USING THIS DATA ONLY this could be worthy of a place bet.
Stellify also shows as improving, with a 3LR at 55 and 2LR and LR at 57. With forecast odds of 66/1, this too could be worthy of a small bet (using this data only).
Most would not just use this method of selection in isolation though. Take a look below the race card for the results of this race, and check out how the ratings predicted the results.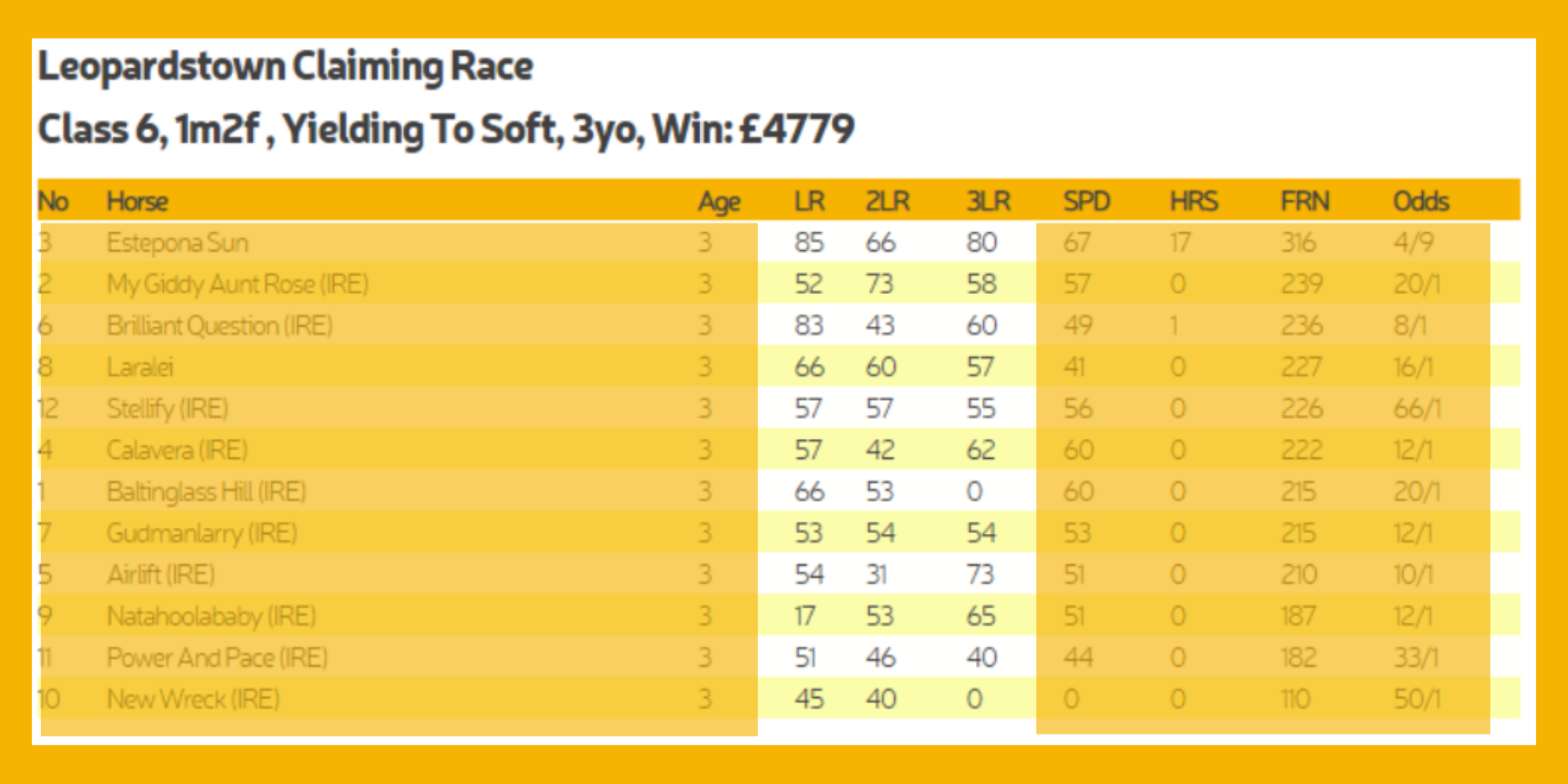 :
So we have seen that by using the LR scores we can find horses which qualify for another look. We found that Laralei and Stellify both qualify as improving horses. Looking at the card in it's entirety, we cannot ignore the favourite Estepona Sun - it's FRN is way higher than the rest, it's SPD rating is the highest and so too is the LR.
So how did the race pan out? Let's take a look at the results: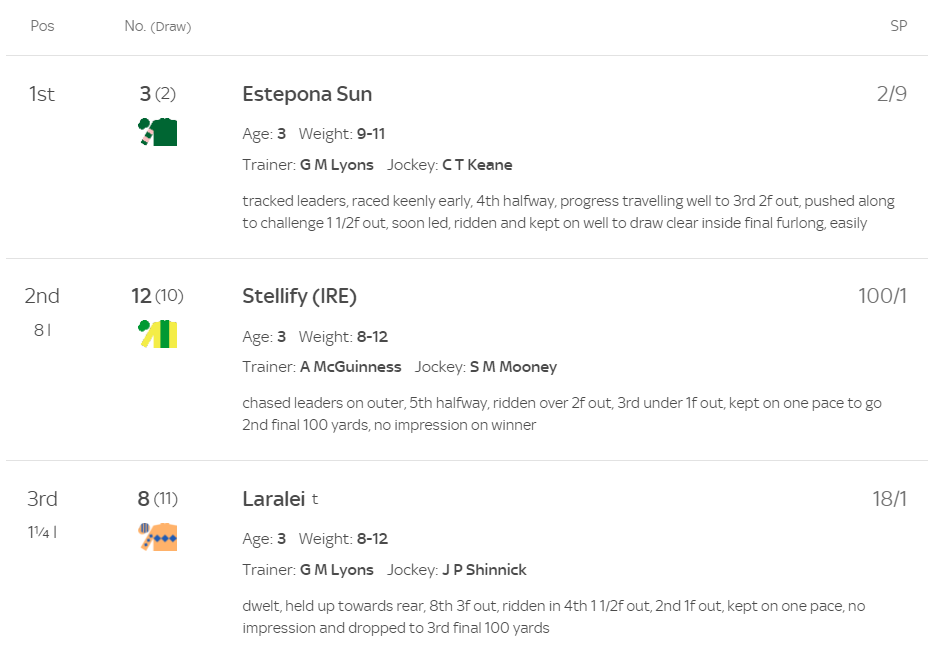 As you can see, the ratings, using the full ratings identified the winner Estepona Sun, however, in the place positions were our two qualifiers - and at SP of 100/1 and 18/1 there would have been a good return on your place bets.